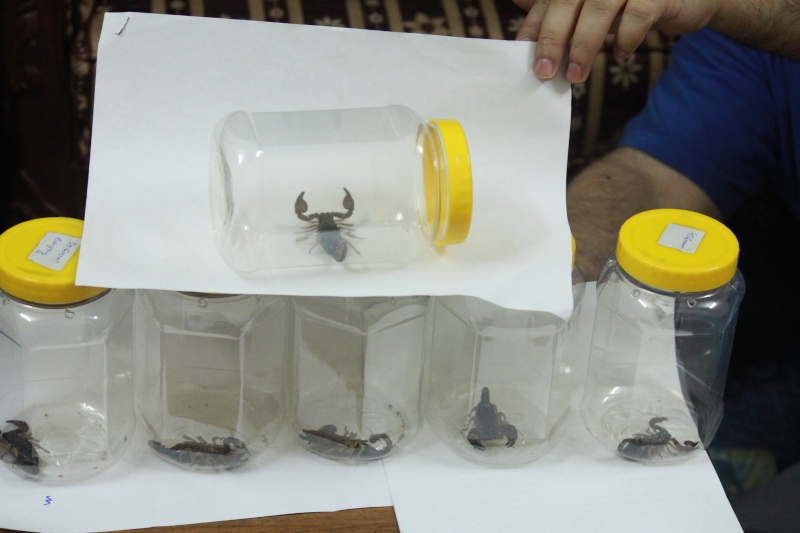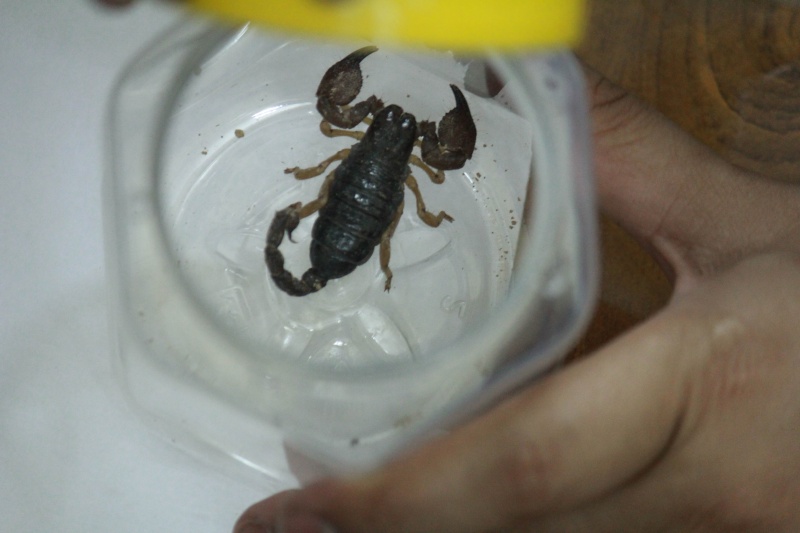 tell me what is the kind of my scorpions

scorpion_sultan

Spermatophore




Posts

: 4


Join date

: 2014-06-26


Age

: 40



Hello there.

After doing a quick search your scorpions may be from the Scorpiops or Euscorpiops genus, as per your info that it's found in Afghanistan. I can find very little scientific documents on the two and that's as far as I can help you with. 
I'm not really very sure but the experts on this forum may be able to help you.

*edit*
I really cant help but look at it and see Uroctonus sp. though it's mainly found in the western US.
Hahaha

lazydonut

Spermatophore




Posts

: 40


Join date

: 2014-03-23


Age

: 24


Location

: Manila, PH



not its actually not from that kind. cause it bit a person and he was very serious. can any one tell me what breed it is . thanks lazydonut any ways for the answer.

scorpion_sultan

Spermatophore




Posts

: 4


Join date

: 2014-06-26


Age

: 40



How would you say it's not?
Of course if one were stung by a scorpion one would be serious about it especially if one is not familiar with it. 
After checking W. R. Lourenco's The Scorpion Families and their Geographical Distribution, I roughly narrowed down that your scorpion
is from the Scorpiopidae family. Based on what you said that they are 
found in Afghanistan.
This is the excerpt in The Scorpion Families and their Geographical Distribution (W. R. Lourenco, 2001), as seen on the journal of venomous animals and toxins:
"
Scorpiopidae
Kraepelin, 1905.
6 genera: Dasyscorpiops Vachon, 1973; Parascorpiops Banks, 1928; Scorpiops Peters, 1861; Alloscorpiops Vachon, 1980; Euscorpiops Vachon, 1980; and Neoscorpiops Vachon, 1980.
Geographical distribution: Afghanistan, South-East Asia, India, Pakistan, Indonesia, and Malaya."
May I suggest you take a look at the pictures below
This is 
Scorpiops. sp.
(Copyright J. Stotzky)
Visually physically similar to the scorpion you want to ID. With bulbous chelae (pincers), similar granulation on chelae, relatively thin metasoma (tail), similar color pattern of light brown to yellow legs and dark pedipalps, prosoma and opisthosoma.
This is not a definite comparison, although after doing research this is as close as I can say.
I am not an expert and I understand the opinions of others and respect the knowledge of those who have more experience than I do.

lazydonut

Spermatophore




Posts

: 40


Join date

: 2014-03-23


Age

: 24


Location

: Manila, PH



i am extremely sorry for i said earlier . but you  have knowledge. can you tell me how much poisous they are . cause here in pakistan 50 grams of a scorpion is worth about your 50000 us $ yah and they are selling for black . do you know why . my freind had a 100 gram scorpion and he sold it for 1 lac us $ yah thats right isnt it ammazing they say here pakistani scorpions have the venoum that is used for AIDS medcince. do your research and then reply ... and yah these are my scorpions thanks alot

scorpion_sultan

Spermatophore




Posts

: 4


Join date

: 2014-06-26


Age

: 40



No, it's okay  
I was just intrigued about trying to ID this species, because many interesting desert scorpions can be found in Central Asia.
Firstly, almost always, a scorpion with big chelae and small tails is
not
as dangerous as a scorpion with reduced chelae and large tails.
P. imperator
(Emperor scorpion) Photo by N. Thoor
A. bicolor
(Black Fat-tail scorpion) Photo by G. Haimovitch
The above pictures show one scorpion with large pincers and reduced tail, and another scorpion with small pincers and a large tail. This is a clear sign of the level of danger you would associate with a scorpion.
Usually the more venomous scorpions are buthids, scorpions who are members of the Buthidae family. 
A. bicolor
is a buthid.
Now to answer your question, the scorpion you have (probably 
Scorpiops sp.
) is
not
highly venomous, however, there is ongoing research about the composition of the scorpions in this family, Euscorpiidae/Scorpiopidae (the taxonomy is still a debate). Such research shows that the composition of the venom of these scorpions differ from the venom of Buthid scorpions (Ma et al., 2009), in that, the venom is found to lack the neurotoxic components mainly found in Buthid venom, but contain many other components that are not seen in many other scorpion venom. The effects of these components are being researched for any possible medical use.
So no, the scorpion is not dangerous when you are stung.
I am not sure about how much they are being bought for, but sounds like you're expecting some money eh?
You're welcome.

lazydonut

Spermatophore




Posts

: 40


Join date

: 2014-03-23


Age

: 24


Location

: Manila, PH



well thanks aalot yah i have been breeding almost 10 of these in a single aquarium . and its been a month they are still in the aquarium . i read that they fight each other and kill each other but still i am watching them daily and when a single one is near molting ill evacuate him or her from aquarium .and mine are about 10 grams to 20 grams of each scorpion, i give them daily 10 cockroaches  and the next day i come they have eaten all of them . i have been giving them some medicines through cockroches i.e injecting mutivitamins with high suger levels( i cant post the product  here cause people here in pakistan may copy what i do ) in cochroah bellies. and since i started that  they eat regularly . but i must say if any one is experimenting ... do not experiment cause i had 20 now i have 10 left but the 10 are fittest/ and the high price for scorpion in demand is 51 grams. can i make them Grow in a month or two.??? that fast. its already a month and their body weight have doubled up......sir. for the info... thanks thanks thanks again . and if you want to say something on my experiments do so.

scorpion_sultan

Spermatophore




Posts

: 4


Join date

: 2014-06-26


Age

: 40



First off, just make sure that f you keep them in a communal (together) setup, make sure they have more than enough hiding places, if you have 10 scorpions together, make sure you have 13-15 different places for them to hide.

And there is no need to feed them daily, it is very unhealthy for them to be overfed as such constant feedings does not and cannot possible exist in the wild. A feeder roach for each scorpion once ever 3-5 days, or a week, is the more appropriate routine.

Also, you dont need to directly administer vitamins and supplements into the cockroaches. Just ensure that the roaches eat a good amount of vegetables and high nutrient feeds (Such as a mix of dog food, stag developer, cereal grains, and some cat food). Such a diet for the cockroaches is all the scorpions will ever need in nutrition. They will get all their vitamins from the vegetables and dry food.
Remember, too much of a thing is bad. And possibly, while vitamins and minerals may be alright, sometimes there are other substances found in the supplements that do not agree with the scorpion.
For example, too much calcium for a scorpion is bad, as it interferes with their chitinous exoskeletons, making their "armor" brittle, and prone to breakage. So again, a good diet is all you really need.

Unfortunately, i do not know how fast that species grows. But do note that as they get older, they grow slower. 
Patience is key. 

Best regards!

lazydonut

Spermatophore




Posts

: 40


Join date

: 2014-03-23


Age

: 24


Location

: Manila, PH



---
Permissions in this forum:
You
cannot
reply to topics in this forum