Hello everyone! 
2011 came into contact with scorpions, today's favorite is the huge size of the type. I offer a few breeding scorpions, I hope you like it.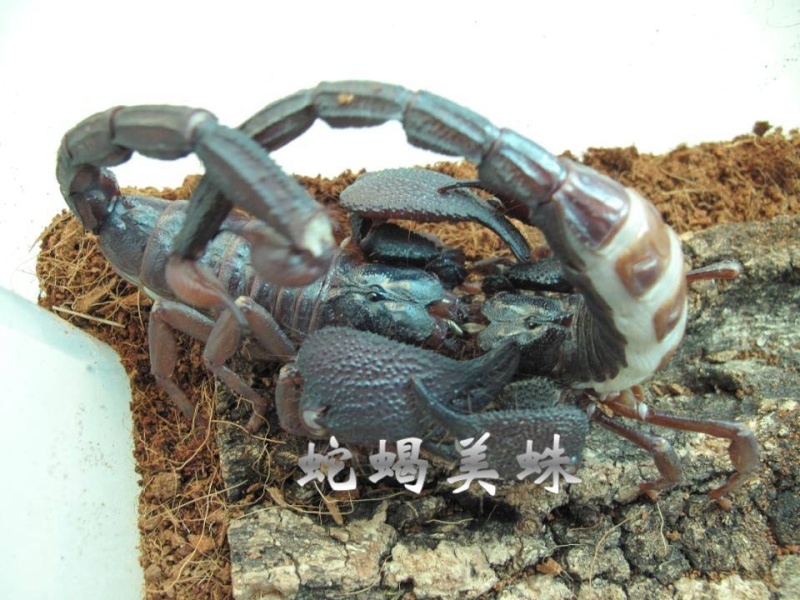 Heterometrus Swammerdami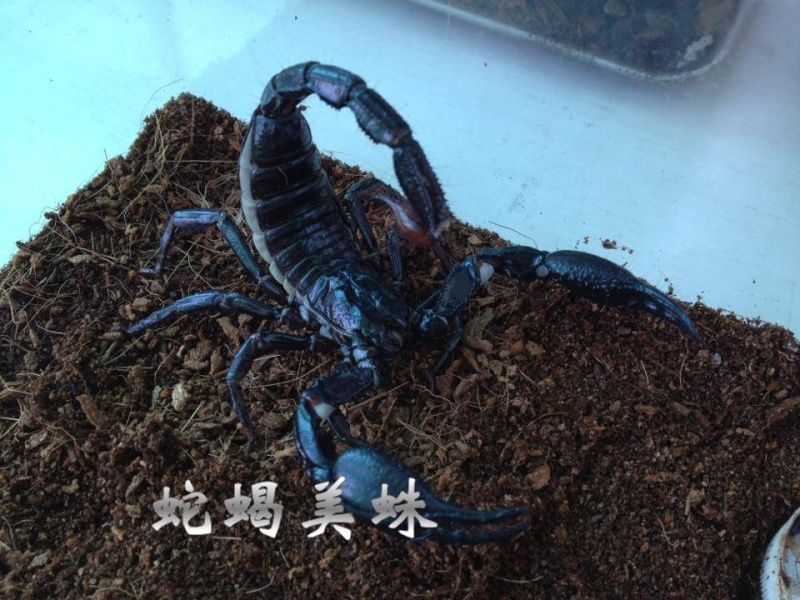 Heterometrus longimanus Male 7L
Heterometrus mysorensis Female 6L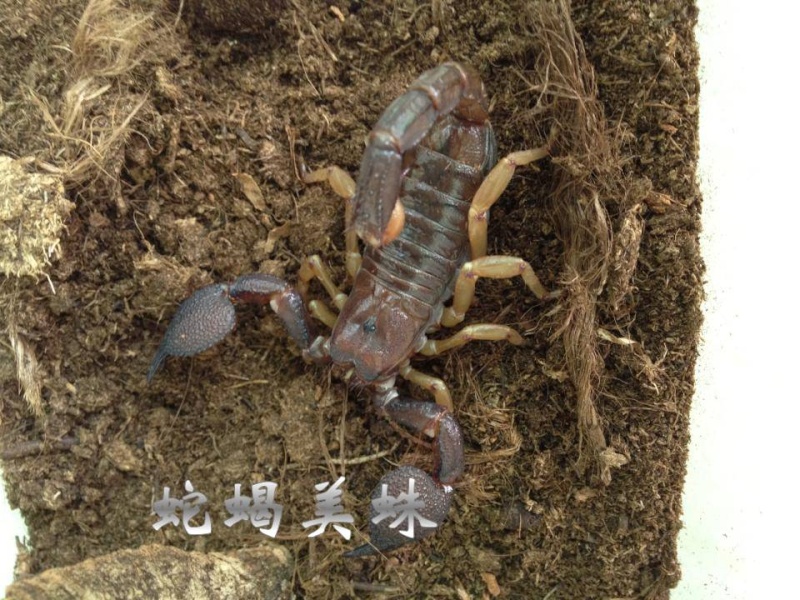 Heterometrus xanthopus  Female 6L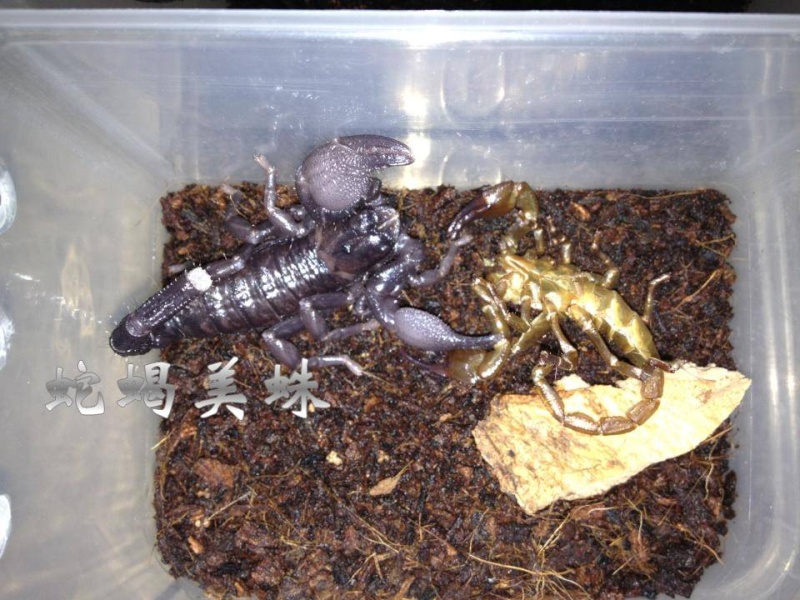 Pandinus imperator Female 6L

Eric L

Spermatophore




Posts

: 12


Join date

: 2014-05-20


Age

: 37



Beautiful specimens! Thanks for sharing.
Can't help to notice that the substrate in the first four pictures are on the dry side, but I believe most of the time moisture level for all your forest scorpions enclosure is similar to what is seen at the last picture? As that's the ideal condition
Eric L wrote:

Pandinus imperator Female 6L
Thank GS. Because I'm not feeding environment ventilation is limited, so a relatively low humidity control, but I placed a basin to facilitate water. Finally a molt because it increases the humidity. If something wrong please correct me, thank you!

Eric L

Spermatophore




Posts

: 12


Join date

: 2014-05-20


Age

: 37



Hi Eric,
Having a water dish in your scorpion's tank does help. However, by having the soil in complete dryness and only with a water dish is unhealthy to the scorpion. Such setup will not kill the scorpion immediately but will cause stress to them as their natural habitat is usually moist and humid.
Here's a great setup by Alex for your reference:
http://www.allscorpionarchives.com/t131-how-to-emulate-a-natural-looking-tropical-forest-scorpion-habitat
The soil (substrate) needs to have more water in them. You may pour water directly unto the soil to get the correct moisture content. You can look at the soil condition that your "Pandinus imperator Female 6L" is in, that should be the outlook of the soil. Dark brown and moist to your touch.
Here's a simple caresheet on how I keep my forest scorpions:
http://www.allscorpionarchives.com/t7-asa-forest-scorpions-caresheet
Let me know if you need clarification.
Hi GS, very exciting and full of two Posts, so I learned a lot of knowledge 
My city Beijing, usually from June to September the summer, the temperature in ° C between 25 - 35 ° C, hot and humid. Rearing methods I use environment similar to what you said. But in October - next May, at room temperature are not suitable for farming, and the air humidity began to decline, as shown in Figure I have adopted the way, I will reduce the breeding environment and placed in a wooden box, in order to ensure that the temperature such evils is poor ventilation, so I can not increase the humidity is too high, that is, until you see the rearing environment. Is there a better way to solve this problem of ventilation intensively reared winter, thank you very much!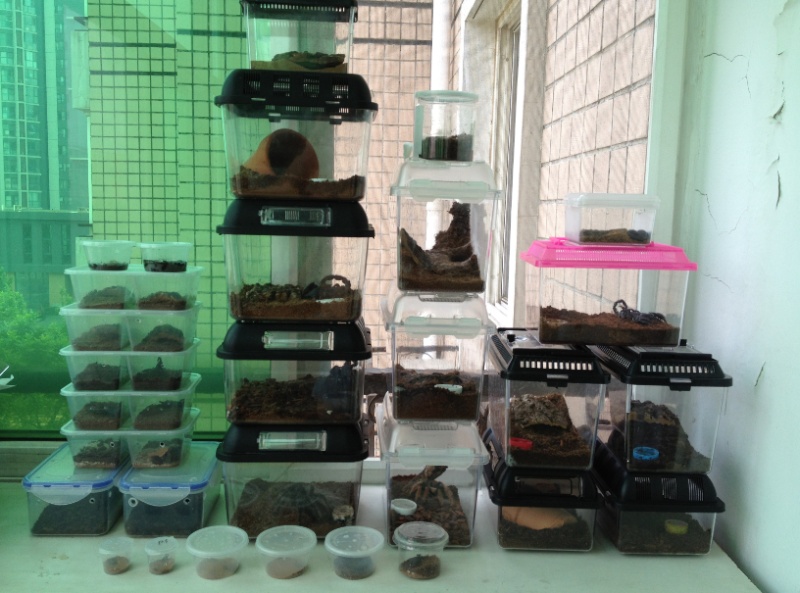 Summer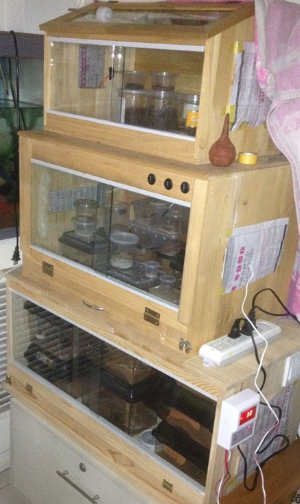 Spring Autumn and Winter

Eric L

Spermatophore




Posts

: 12


Join date

: 2014-05-20


Age

: 37



Eric L wrote:

Spring Autumn and Winter
The "Spring Autum and Winter" setup you shown above might be useful for specimens that require low humidity (e.g. desert scorpions), but it lacking in ventilation, which is important, especially so, for forest scorpions.
To maintain the warm temperature for your scorpions during poor climates such as winter, it will be useful to regulate the temperature of the entire room (that holds all your scorpion enclosures), instead of putting individual enclosures within a wooden cabinet to maintain proper temperature. E.g. having a heater in your room during winter, or turning on the air-con of your bedroom during a hot summer
Another concern of keeping forest scorpions on dry substrate (only providing a water dish) is that, at any period if you forget to replenish the water, the forest scorpion will risk dehydration and death easily. Similar to "putting all our eggs in a single basket".. Once we "drop the ball".. all is gone (the scorpion dies). Hence, I would always recommend keeping the substrate dampen for all forest scorpions.
Thank you very much for your advice! I will improve my scorpion breeding environment in order to help them grow.

Eric L

Spermatophore




Posts

: 12


Join date

: 2014-05-20


Age

: 37



No prob Eric. Feel free to post your queries. Keep us updated on your critters
---
Permissions in this forum:
You
cannot
reply to topics in this forum